Squalane - "Nature's Facelift in a bottle"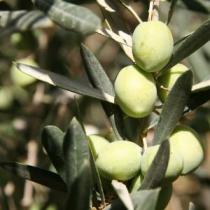 Our squalane is from derived from olive. It is an odorless, colorless, non-staining, and non greasy oil. It leaves your skin moisturized and dewy with just a several drops.
It is good for all skin types, including acne prone skin.
Just a few drops of this oil can keep your skin moist, wrinkle free and speed the healing of wounds leaving no oily residue.
Our body produces a small amount of squalane, but the amount diminishes when we get older, starting in our twenties.
Squalane is required for our skin to keep it moisturized and fight aging. It is also an unique antioxidant from olives that protects our skin from free-radical damages.
Many high end moisturizers and anti-aging products contain squalane.
Since Olive squalane's composition is very similar to human sebum, it can penetrate our skin very quickly to help our skin to fight dryness. It enhances skin elasticity and moisture retention.
Here are some benefits of squalane:
- Conditions and moisturizes our skin
- R

estores the skin suppleness and flexibility.


- Enhances skin elasticity and moisture retention
- Reduce the appearance of wrinkles
- Relief to dehydrated and ultra-sensitive skin
- Softens the most rough-textured irritated skin and leaves no oily residue
- Boost new cell growth
- Treat many skin situations, such as eczema, psoriasis, dry/rough skin, skin cracks, dermatitis, rashes
- Protect against radiation of the sun
- Prevent age spots
- Provides antimicrobial germ killing activity
How to use Olive Squalane:
- Can be applied throughout the day to soften dry, scaly spots.
- It can be used under make-up as a primer for a flawless application and as a base to maximize the effects of moisturizers.
- Squalane is also an ideal addition to nighttime facial treatments.
- Used as a cuticle conditioner, keep cuticles soft and prevent cracks around finger tips
Olive Squalane is wonderful for personal use. If you are a lotion crafter, it is a perfect product add to your anti-aging products. It gives your lotion a silky smooth feel, without being greasy. Check out our
8 oz value size Olive Squalane
.
Usage Rate: 1-100%
Olive Squalane with Frankincense & Myrrh Anti-Aging Serum

$17.99 Condition: New


Olive Squalane with Lavender Essential Oil Anti-Aging Serum - 1 oz

$17.99$14.99 Condition: New


Pure Olive Squalane Oil - 1 oz

$12.99$9.99 Condition: New


see more